You are here

28-HUNDRED WATCH
28-HUNDRED WATCH
Submitted by HB Retirement on March 13th, 2019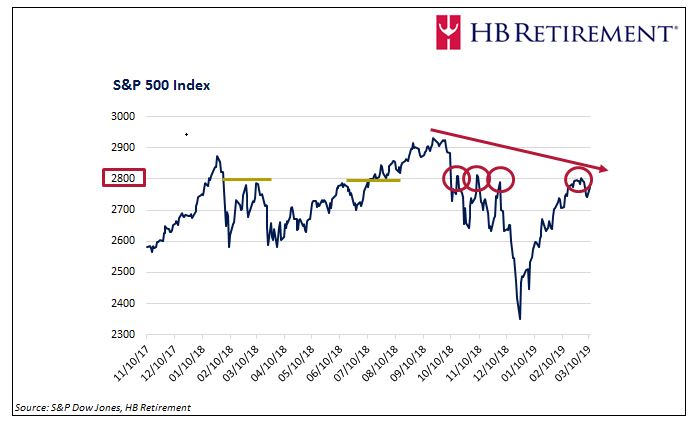 28-HUNDRED WATCH – At HB Retirement, we spend time not only assessing the moving parts of the global economy, but also studying technical asset price trends. The benefit of that is price trend can change materially given little or no change in the global economy…and price trend can potentially foretell an eventual change in fundamentals. What has been notable to us is the S&P 500 Index, a formidable barometer of equity market price trend, is showing signs of wear. Technical price analysis indicates to us the Index may have some difficulty returning to previous highs, which to us is a must for identifying a potential continuation of the long-term positive price trend we have seen since 2009. The culprit: the 2800-level in the Index - a point in the chart where price consolidation or price reversals have been common (gold lines and red circles). Technically, this type of occurrence makes the 2800-level a good price for us to watch - a sustained break above may be considered near-term bullish, while a failure to break above that level can signal a potential bout of price weakness (the current condition). Successive failures to break above 2800 (red circles) makes that price level even more important to watch when assessing potential price trend. Much of technical price analysis has to do with identifying momentum and potential supply and demand for equities at a given price.
What's the message here? Well as fast as this market moves, we believe you have to pay attention to both fundamentals and price trend in today's environment. Secondly, the below chart shows that the technical condition of the U.S. equity market, despite the recent equity rebound, has deteriorated (red arrow), which is again putting the long-term price trend at risk. This may yet be corrected, however, the repetitive failure to break above 2800, in our view, increases the technical risk to the market. We believe this should signal caution for investors and encourage market participants to take less tactical risk in portfolios then they otherwise might. Allocate wisely.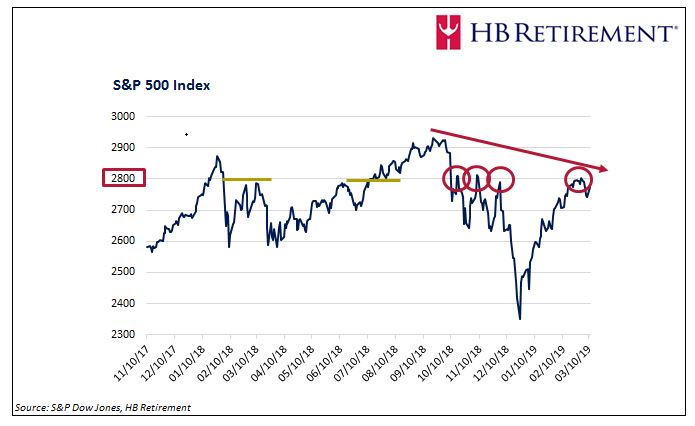 The opinions voiced in this material are for general information only and are not intended to provide specific advice or recommendations for any individual. Investors should always consult with their financial advisor to determine their appropriate investment strategy. All performance referenced is historical and is no guarantee of future results. All indices are unmanaged and may not be invested into directly.
The S&P 500 Index is a capitalization weighted index of 500 stocks designed to measure performance of the broad domestic economy through changes in the aggregate market value of 500 stocks representing all major industries.
Technical analysis is based on the study of historical price movements and past trend patterns. There is no assurance that these movements or trends can or will be duplicated in the near future.