You are here

SUPPLY AND DEMAND
SUPPLY AND DEMAND
Submitted by HB Retirement on March 20th, 2019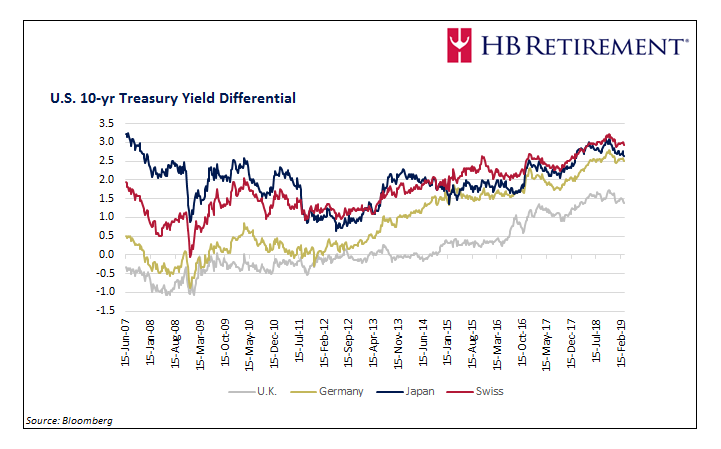 SUPPLY AND DEMAND - While U.S. fiscal policymakers have unfortunately seen to it that U.S. Treasury supply continues to rise, Treasury security prices have remained elevated (yields depressed). Granted, Fed policy has recently influenced market yields, but we surmise that the relative attractiveness of U.S. yields has also played a part in maintaining demand.
The 10-yr Treasury yield differential compared to some of the world's other developed market sovereign debt is notable. As such, U.S. yields could in fact stay lower for longer, and expectations for sustained increases in U.S. rates may have to be put to bed. Allocate wisely.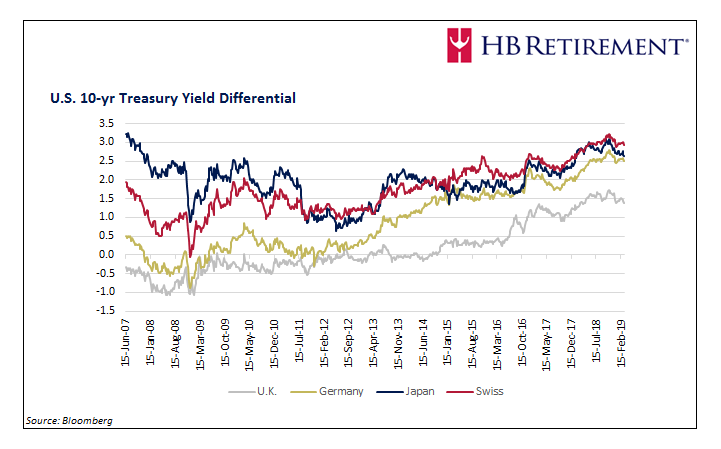 The opinions voiced in this material are for general information only and are not intended to provide specific advice or recommendations for any individual. Past performance is no guarantee of future results. Investors should always consult with their financial advisor to determine their appropriate investment strategy.
The economic forecasts set forth in this material may not develop as predicted and there can be no guarantee that strategies promoted will be successful.
Government bonds and Treasury bills are guaranteed by the US government as to the timely payment of principal and interest and, if held to maturity, offer a fixed rate of return and fixed principal value.